363 Push Up Lift Non-Slip Strapless Bra Beige
Excellent Material:

84.4% Polyamide, 15.6% Elastane
Non Slip:
THREE NON SLIP DESIGN---side anti slip silicone, bottom anti slip silicone, back anti slip mesh. No need to adjust it often.
Good Shape:
Slightly padded hand-shape area provide extra lift and shaping, hold girls together and let the flab magically disappear.
Friendly to Many Size:
Work well for A-DD cup.
**Wash Notice:
Hand wash. Do NOT bleach or iron, tumble dry or dry clean.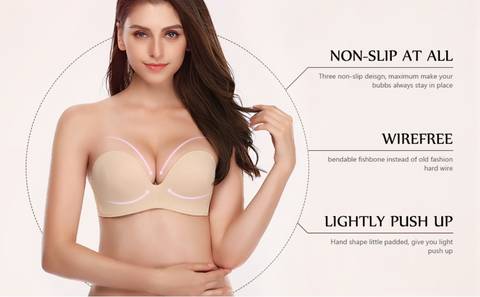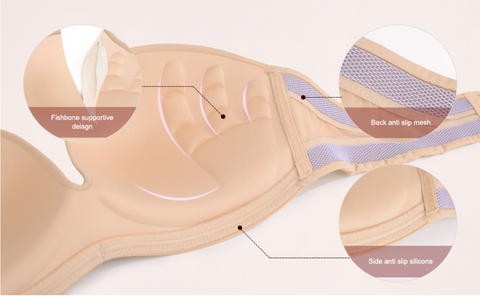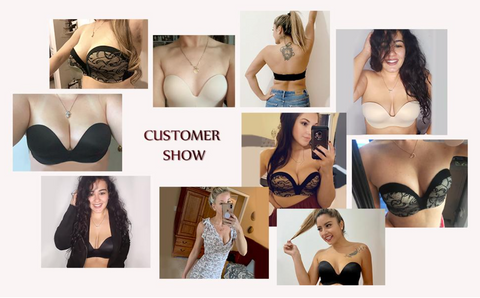 Fits
Fits- measure exactly as indicated and it will fit- also sent with a back extender for a looser fit if desired.
Freaking AMAZING!!! 10 STARS
I'm 46 & finally a strapless bra that STAYS UP, THATS FLATTERING, & NO WORRIES! 38 C/D Is my normal size but since strapless bras tend to run big in cup they run small around so I went with 40C. The secret since I'm short waisted is to make sure the bra is on my ring cage not below. I've never found 1 that did anything at all but be a neusanc but this is perfect. Going into SPRING, I'll finally be able to wear my Off The Shoulder Tops & feel secure to do so! AMAZING BRA,
THANKS TO THE COMPANY
Great support for 32C
I bought this specifically for going out dancing. I bought it in my usual size of 32C. I've worn it out half a dozen times and it fits the bill perfectly. It doesn't wiggle or slide, holds me in, gives great shape, and doesn't dig my ribs. I forget I'm wearing a strapless bra. Once it's on, it doesn't require any adjusting and tugging, even when I'm jumping and sweaty. 10/10 would buy again!
Does not stay in place.
I recently purchased the DotVol Women Strapless Push-Up Bra, hoping to find an invisible bra with custom lift and anti-slip features. However, my experience with the product was not positive. The bra simply did not stay in place, even with the hand-shaped anti-slip design.
Despite my high expectations, the bra slipped and slid, making it impossible to wear. I was extremely disappointed with the product, as it did not live up to the promises made in the product description.
I promptly returned the bra and will not be purchasing it again. I cannot recommend this product to anyone in search of a strapless push up bra that actually stays in place. The lack of functionality negated any potential benefits, and I was ultimately left unsatisfied with my purchase.
Fits well!
I LOVE this strapless bra! I never had one that felt like it wasn't slipping and made me look good! I'm very impressed and love how well it fits my little body, there's no gap, it stays in place and it's flattering! Finally a strapless that I feel confident in and not goofy! Thanks for your product!